Architecture Statement of Purpose Sample Should Include a Brief Description: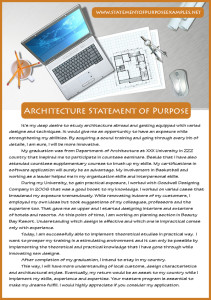 It should be about your background, all the past experiences associated with the subject, their association in terms of experiences, your past works encouraging you to study this subject and the future plans to pursue graduation research and follow it as a professional career. In order to be the best one, you can use tips and secrets from the professionals using architecture statement of purpose.
Sample:
It's my deep desire to study architecture abroad and getting equipped with varied designs and techniques. It would give me an opportunity to have an exposure while strengthening my abilities. By acquiring a sound training and going through every bit of details, I am sure, I will be more innovative.

My graduation was from Department of Architecture at XXX University in ZZZ country that inspired me to participate in countess seminars. Beside that I have also attended countless supplementary courses to brush up my skills. My certifications in software application will surely be an advantage. My involvement in Basketball and working as a leader helped me in my organization skills and interpersonal skills.

During my University, to gain practical exposure, I worked with Goodwell Designing Company in 2006 that was a good boost to my knowledge. I worked on varied cases that broadened my exposure tremendously. While renovating indoors of my customers, I employed my own ideas but took suggestions of my colleagues, professors and the superiors too. That gave me an upper and I started designing interiors and exteriors of hotels and resorts. At this point of time, I am working on planning section in Beauty Bay Resort. Understanding which design is effective and which one is impractical comes only with experience.

Today, I am successfully able to implement theoretical studies in practical way.  I want to prosper my training in a stimulating environment and it can only be possible by implementing the theoretical and practical knowledge that I have gone through while innovating new designs.

After completion of my graduation, I intend to stay in my country.

This way, I will have more understanding of local customs, design characteristics and architectural styles. Eventually, my return would be an asset to my country while I implement my skills, experience and expertise. Your masters program is essential to make my dreams fulfill. I would highly appreciate if you consider my application.
The sample is solely written to offer you an idea of writing an effective philosophy statement of purpose, MBA sop or biology statement of purpose. We would be happy, if this sample is of any help to you, however, if you still have any difficulties writing it, do not hesitate to seek our assistance, we would be delighted to help you out.